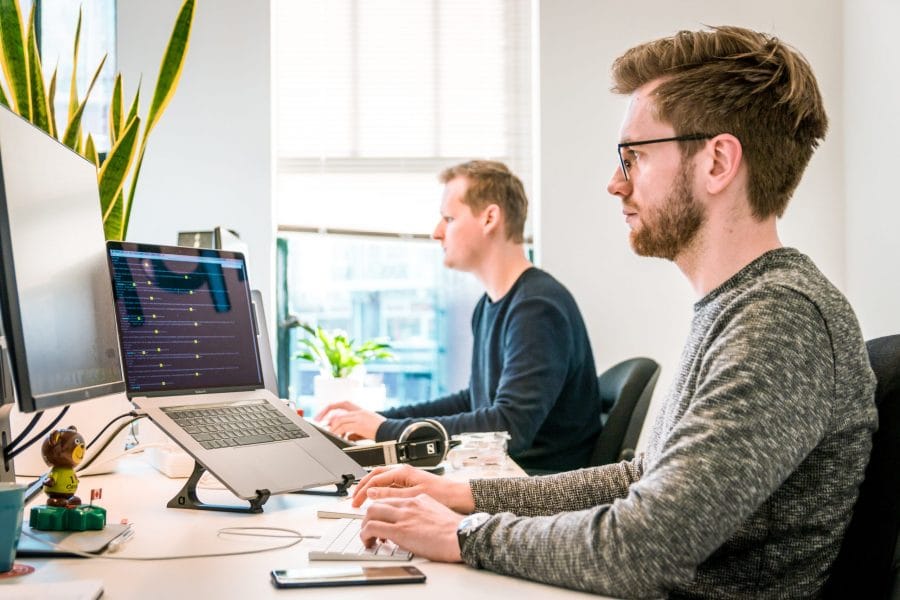 What is Managed IT Service & Why it's important
March 21, 2021
0 Comments
Support for small business IT services requires consistent, adaptive management of its IT systems' implementation and maintenance. Hosting a technology department to support IT services is resource-consuming, which is particularly cost-prohibitive for small businesses. A viable solution is to outsource managed IT service tasks and responsibilities to a Managed Service Provider (MSP). By doing so, a small business owner is free to allocate company resources to other initiatives while benefiting from specialized managed IT service and support. An MSP is the layer between a business and IT systems and solutions. MSPs offer industry-specific implementations, high availability, and comprehensive management to effectively alleviate clients' responsibility over their IT needs. The following is an introductory overview to the crucial basics of managed IT service.
What Are Managed IT Services?
Managed IT Services are technology tasks that a business delegates responsibility to a third-party vendor, the Managed Service Provider. MSPs assume responsibility of managing a business's IT infrastructure for a predictable fee. As a result, the customer is able to dedicate company resources to core business objectives.
Types of Managed IT Services
A variety of Managed Services are available to augment a company's efficacy and efficiency. MSPs offer small businesses partial or complete IT services to satisfy their technology needs.
Infrastructure
Managed IT Services infrastructure: encompasses any or all of an organization's infrastructure comprising of computer-based hardware or software required by business operations. An MSP assumes a company's responsibility managing or hosting technology department resources (staff, equipment, applications). These resources are hosted and provided either on-site (client) or remotely (provider). Computer hardware which may be dedicated or virtualized, which may be sourced by cloud computing pools. Virtualized services are distributed by the MSP who provides and maintains access to them remotely via the Internet. Cloud services pool and automate virtual resources for on-demand use.
ZZ Computer supports infrastructures of up to 125 workstations.
ZZ Computer offers Los Angeles free:

Network Audits
Month of Flat-Fee IT Service Contract
Technical Support
Reactive, on-demand technical support is available for infrastructure users encountering IT incidents during usage activities. An MSP's IT service desk, help desk, or call center offers a central reference a business can rely on for immediate assistance to a solution during operating hours of managed infrastructures.
It is considered a first resort for an urgent resolution since it is initiated remotely, with the possibility of serving the solution remotely. This is dependant on the incident's complexity.
To determine this, Managed IT support services are typically escalated across a spectrum of five tiers (labelled 0-4). These are designed to normalize/ resolving the range of technical obstacles an infrastructure user may encounter during normal usage.
Example managed IT support tasks range from common usability issues to convoluted software or hardware issues requiring specialist expertise:
Acclimation: basic usability support; e.g. staff training, applications' account setup, privilege and access management, user authentication/password resets.
Resolution: identifying and resolving issues/problems; e.g. system instability (binary/library/data integrity), under-performance (lagging devices), network issues, unexpected software/hardware malfunction, misconfiguration among peripherals (printers, human interface devices [HID]) or services (file sharing, cloud synchronization).
Augmentation: installation, updates; e.g. software and hardware upgrades and additions, including any subsequent (re)configuration.
Data Backup and Recovery
Cloud-based data backup and recovery services protect companies against data loss through its redundant nature. Because cloud-based IT services are distributed by the managed IT service provider, business owners can quickly restore information from a digital server after a disaster. Meanwhile, encryption keeps data secure during transit.
A Disaster Recovery Plan (DRP) sets expectations from the MSP in the event of a system downfall. Recovery Time Objections (RTO) and Recovery Point Objections (RPO) outline the procedures for recovering a system.
ZZ Computer offers Los Angeles free Disaster Recovery assessments.
Enterprise Communication
This service merges voice, data, and video communication onto a single IP network. The result is greater operating efficiency and more consistency across communication channels. Unified, or Managed Communications, combine chat, email, voice, and video in a single connected platform.
Cyber Security
Managed IT Services require security against cataloged cyber-attacks such as viruses, malware, and ransomware. The Managed Service Provider will ensure that a company's protection software is updated in real-time. Security duties include analysis, monitoring, reporting, log management, system remediation, patch installation verification, and anti-malware protection. Components of business cyber security include:
Mission Assurance Engineering (MAE) – measure of resilience.
Crown Jewels Analysis (CJA) — Identify mission-critical business assets to protect.
Threat Assessment & Remediation Analysis (TARA) – three part cyber-hardening process:
Cyber Threat Susceptibility Analysis (CTSA) – detect weaknesses through testing cyber-assets' susceptibility to cataloged cyber-attacks.
Cyber Risk Remediation Analysis (CRRA) – prepare defenses; mitigate cyber-assets' susceptibility to cyber-attack based on tests.
Data and Tools Development – MAE Catalog Development, Catalog Search, Report Generation, and Scoring tools keep systems up-to-date.
These activities support three (3) workflows: TARA assessments, catalog development, and toolset development.
TARA Assessments
The TARA approach mitigates online security issues by using an engineering methodology to identify, assess, rank, and fight cyber threats.
Catalog Development
Catalogs require continuous development to effectively recognize and fight attacks. Catalog development tools include web forms as well as import and export applications.
Toolset Development
Web forms such as TTP, CM, and Asset Class Management interfaces manage catalog data, while Scoring Tools assess risk factors. Report generation tools automate the creation of formats necessary for constructing reports.
Managed services help businesses stay compliant with local and federal regulations. Ongoing real-time compliance ensures that issues are immediately detected and corrected. For example:
GDPR Compliance – The EU General Data Protection Regulation (GDPR) "is the most consequential regulatory development in information policy in a generation". Many business owners are struggling to manage this compliance issue when migrating to the cloud. MSPs can help create data rights management strategies and ensure GDPR requirements are fulfilled.
PCI DSS – The Payment Card Industry Security Council's Data Security Standard (PCI DSS) issues guidelines that  every business needs to follow when processing credit cards online.
HIPAA – The Health Insurance Portability and Accountability Act (HIPAA) outline strict privacy standards for healthcare transactions that take place online.
FFIEC-IT – The Federal Financial Institution Examination Council Handbook ( FFIEC-IT) contains a set of regulations that financial institutions must comply with.
Software-as-a-Service
Software-as-a-Service (SaaS) hosts and delivers updated software on-demand. SaaS is one of three cloud computing services. Infrastructure-as-a-Service (IaaS) and Platform-as-a-Service (PaaS) are the other two components. Companies with Bring-Your-Own-Device policies can benefit from the added protection of Desktop-as-a-Service. With this service, an MSP can host a Virtual Desktop Infrastructure (VDI) that enables businesses to secure sensitive information.
Web Presence
MSPs monitor brand consistency across its web design, search engine optimization efforts, link sharing, social media profiles, marketing initiatives, reputation, and directory listings.
Who are Managed IT Services For?
Technology is essential for all businesses that want to streamline processes and gain a competitive edge. Keeping up with software updates, patches, system backups, and security precautions is critical to avoid significant productivity and financial losses. However, companies with limited staff and budgets find it challenging to maintain a functional IT infrastructure.
MSP services are not only essential to large enterprises but for small and mid-sized companies as well. Growing dependence on automated systems leaves small businesses vulnerable to server issues, network downtime, hardware failures, and security breaches. These networks and system malfunctions often damage customer relationships, revenues, and the functionality of a company.
As Los Angeles small businesses' premier Managed Service Provider, ZZ Computer offers reactive, concurrent, and proactive support to stabilize business IT operations. Our small business clients benefit from scalability and access to technology that their company won't outgrow. Government agencies, educational facilities, and the public sector facing hiring restrictions and budget limitations also use MSP services to prevent operational disruptions. Features of support with ZZ Computer include:
One hour response time: remote and on-site; any day, any time.
Long-Term consistency: Los Angeles's senior MSP, supporting L.A. since 1992 with long-running client accolades.
Professional liability insurance: our operations are insured to confidently assume responsibility over your small business IT operations.
What is a Managed Service Provider (MSP)?
Managed Service Providers proactively manage and optimize a company's IT system on a subscription basis. Some MSPs offer services for specific tasks, while others focus on the IT needs of particular industries. MSP services are typically provided on a flat-rate basis. According to the desired degree of automation, business owners can choose between tiered service levels.
Types of Managed Service Providers
There are three types of MSPs, each of which offers a specific value proposition. Some MSPs only provide essential services with minimal involvement, while others offer a wide range of solutions and take full responsibility for a company's IT needs. Below are the three types of Managed Service Providers and the services they offer.
Low-Level, Pure Play
These MSPs monitor a company's basic IT applications and keep them running correctly. Low-level providers don't assist with IT planning and setting organizational goals. Customers can expect services that are limited to reporting, monitoring, and alerts.
Mid-Level, Value Added
These providers offer a more comprehensive selection of services that include software maintenance, data recovery, scalability planning, and infrastructure improvements. Additionally, the MSP will take more responsibility for a customer's business. Aside from the low-level services, customers receive assistance with software upgrades, installation, patches, and restoration.
High-Level, Outsourced
The full spectrum of services from a high-level MSP enables customers to outsource their entire IT departments. These service providers offer the most comprehensive selection of virtual services and can take over the most responsibility of any MSP. MSPs offer IT solutions tailored for specific industries, such as financial services, healthcare, manufacturing, or legal markets. For example, Managed Print Service (MPS) providers focus on maintaining a company's print devices. A Managed Security Service Provider (MSSP) offers Security-as-a-Service. This type of MSP can manage firewalls remotely and monitor systems for security breaches.
Benefits of Working with MSPs
In addition to saving money on hardware and IT staff, there are many other benefits to implementing Managed IT Services.
Reduced downtime – An MSP continuously monitors systems to reduce network downtimes, hardware failures, and security issues.
Customized solutions – Managed Services have flexible pricing models, so customers can tailor solutions to meet their needs. Scalability enables IT services to grow with a company to achieve higher performance requirements.
Risk mitigation – Keeping up with and adhering to local, federal, and global regulations can be challenging. MSPs help clients stay up-to-date on compliance and classification issues.
Performance visibility – Advanced data insights enable businesses to measure the effectiveness of their initiatives accurately. As a result, companies gain clarity on significant metrics that influence company performance.
MSPs offer cost-effective and dynamic solutions that guarantee the best business practices. At the same time, investments in new technology ensure that clients can continuously refine IT processes. For example, Freelancer Management Systems (FMS) are emerging HR technologies that help companies connect with talented individuals.
A History of Managed Services
Resolving problems with IT systems has been an ongoing challenge for many companies. Managed Services seek to provide an efficient solution to reliably manage computer and data systems inexpensively through combined proactive and reactive methodology. The following is an overview of the history and evolution of Managed IT Services.
The Early Years
In the beginning, businesses relied upon reactive "break-fix" solutions when it came to fixing IT issues. Under the break-fix model, companies would have to wait for a technician to arrive to repair a problem on-site. There were minimal preventive or proactive measures. Eventually, companies started to create internal IT teams that could develop maintenance procedures and perform periodic reviews.
The Emergence of Managed Services
Soon after, hardware and software vendors started adding problem detection capabilities to their systems. Network Management Protocol, developed in the 1990s, was one of the first tools available to help identify issues on PCs. The first modern-day automated systems emerged toward the turn of the century. However, only conglomerates could utilize these new services, which were expensive and complicated to manage.
Managed Services Become Widespread
Circa 2005, Managed Services started to become more mainstream. An increase in service providers and more affordable rates enabled small and mid-sized businesses to take advantage of the movement. Today's businesses don't have to rely on break-fix methods, and they can't afford to either. Most companies depend on reliable IT systems that function with minimal downtime. IT maintenance needs to be proactive for optimal productivity and performance
What is a Service Level Agreement (SLA)?
A Service Level Agreement (SLA) outlines the terms and conditions, as agreed upon by the service provider and the customer. This agreement is essential to business owners entering into a contract with an MSP provider.
The Purpose of Service Level Agreements
The SLA states the expectations of both parties and seeks to eliminate the opportunity for misinterpretation of contract details.
The typical SLA will include the following.
Definitions of service standards
Metrics for measuring service standards
List of reporting methods
Outline of the dispute resolution process
Penalties for contract breaches
Procedure for changing the service agreements
An MSP's capabilities evolve with time, just as a business owner's service requirements can change. As a result, the provider must include a clause that outlines a procedure for changing the SLA.
What to Look For in an SLA
Business owners should look for the following in the Service Level Agreement with their MSP.
Indemnification Clause
This clause protects customers from any contract breaches. If the provider cannot fulfill the agreed-upon terms, they will have to pay for the customer's litigation expenses. Many MSPs don't include an indemnification clause by default. Business owners are advised to re-draft a version that contains this protective provision.
Service level verification
bA service provider's statistics are typically available online. Customers should check how often the MSP is fulfilling the terms of their SLAs. When the provider can't meet the SLA conditions, there should be reports of consumers receiving service credits or other compensation.
Availability of service
This part of the SLA defines the availability requirements. Many e-commerce businesses require 99.9% service availability. However, even this high level of service can result in up to five minutes of downtime per month. SLAs should be reviewed and updated periodically, or when business needs change. Carefully planning and understanding this agreement is essential to avoid disputes.
What is ITSM?
IT Service Management (ITSM) is a general term that describes a company's strategic approach to adopting information technology. MSPs use IT services to perform essential processes and optimize procedures for clients. ITSM includes all the practices involved in creating, delivering, and effectively managing every aspect of a business's technology service operations.
The Benefits of ITSM
Nearly every business can benefit from implementing ITSM practices. IT-specific applications are essential for standardizing processes and establishing cost-effective delivery structures. Below are some of the advantages of integrating IT Service Management.
Reduced expenses – IT services help define roles and responsibilities that increase productivity and reduce costs. In the long-term, companies gain a better understanding of their organizational needs.
Improved customer service – Another benefit is the ability to adjust processes based on a history of best practices.
Limited mistakes – Implementing IT Service Management will decrease the number of incidents as well as their impact on business operations.
ITSM helps MSPs deliver predictable cost and performance models. Various IT functions will require a variety of different tools to control service performance capabilities and enable communication. IT Service Management works with the help of specific software and processes that can orchestrate these tasks.
Common ITSM Frameworks
ITSM processes require frameworks to strategize tasks. The framework ensures that the right processes, technology, and staff are in place to help an organization achieve its goals. These frameworks outline strategies and designs for handling specific service operations. The IT processes within these frameworks enable continual service improvements to manage change, projects, assets, knowledge, and performance issues. Following is a description of the most commonly-used ITSM frameworks.
Information Technology Infrastructure Library (ITIL)
The most widely-used type of ITSM framework is ITIL v3. This framework aligns the best IT practices with a company's long-term needs and vision. The five parts include Design, Operation, Strategy, Transition, and Continual Service Improvement.
Microsoft Operations Framework (MOF)
MOF is a series of guidelines that instruct IT professionals on how to develop and maintain efficient services.
Six Sigma
This framework focuses on achieving high objectives through the use of precisely analyzed data. Six Sigma is often used to improve services and reduce the number of product defects.
Control Objectives for Information and Related Technologies (COBIT)
COBIT is an ideal framework for developing, administering, monitoring, and enhancing IT management practices.
Price Models for Managed IT Services
The price of Managed IT Services packages depends on many variables. Some factors include the size of a company, desired level of automation, and required services. However, the five pricing models that most Managed Service Providers use can provide a starting point for obtaining rate estimates.
Flat rate – Most price models have a flat monthly, quarterly, or yearly fee.
By user – This pricing model requires a flat fee for each user connected to the service.
By device – A flat rate is charged for each device connected to a service.
Hourly – Pay a fixed hourly rate.
À La Carte – Companies pick and choose the services they need. Each service is paid for separately.
Many MSPs use a combination of pricing models to serve a client's needs best. For example, a business owner may decide it's more economical to pay a flat rate for 24/7 security surveillance and an hourly rate for help desk services.
Final Thoughts
Managed IT Services help companies of all sizes develop and maintain robust technology environments. Managed Service Providers offer cost-effective and customizable solutions that solve many immediate operational challenges. As a result, businesses can concentrate their time and resources on long-term business objectives. Contracts with MSPs should always include a Service Level Agreement that clearly outlines expectations from both the service provider and the customer. It's essential to update an SLA regularly to accommodate changing service requirements. The term IT Service Management describes all the processes involved in developing a company's technology strategy. These guidelines help optimize processes according to business goals.
So, if your business is somehow located in Los Angeles or near L.A., contact us or drop a call, message, or book an appointment with us. Together, we can help you achieve success despite this pandemic.